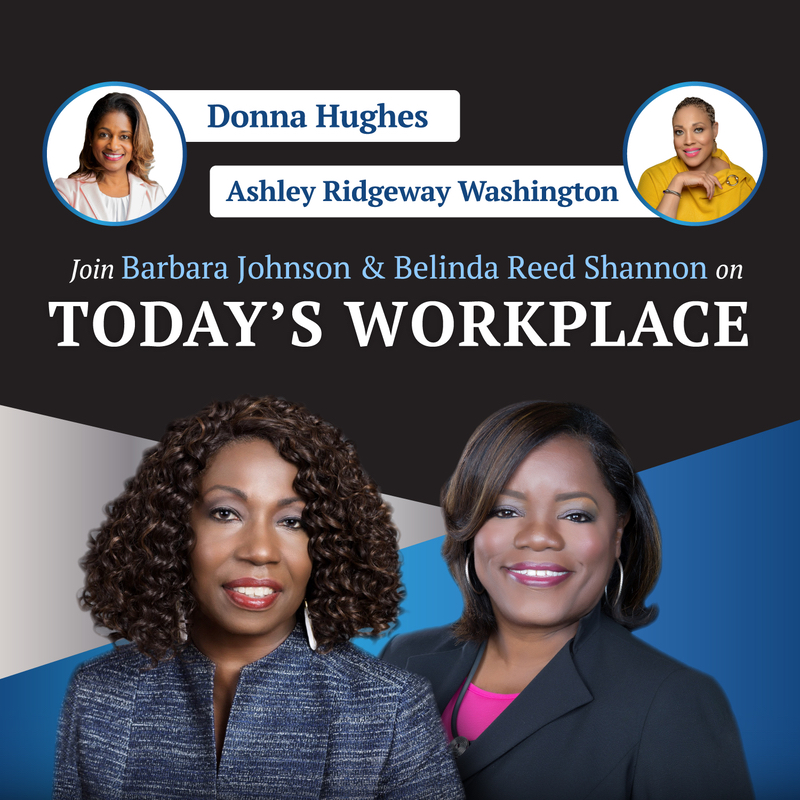 The views expressed on today's program are those of the speakers and are not the views of Today's Workplace, the speaker's firms or clients, and are not intended to provide legal advice.

Summary:
Healthcare workers during the pandemic have been on the frontlines when it came to dealing with the rapid outbreak of the novelty coronavirus. HR leaders within these organizations have also had to contemplate what would be the best approach to ensure the safety of both  their employees and the patients that they serve. na
Since the beginning, HR managers in this line of business have also had to consider the health of patients as well, by setting up the proper protocols to ensure their safety and to flatten the curve. In regards to their workers, those who could work from home, would begin the process of doing so, and those who were integral to the functioning of the workplace remained, but would experience changes to the configuration of office space as proper return to work protocols were made. 
With some individuals working from home, one of the greatest challenges HR managers face is ensuring that their workers are mentally healthy as the lines between work life and home life become blurred. It is crucial to lead from a place of compassion and authenticity and check on their workers as people first as well as figuring out the best approach to their work dynamic and leadership style. Joining us today is Ashley Ridgeway-Washington and Donna Hughes.
Ashley Ridgeway-Washington is a human capital executive with a demonstrated track record of leading successful strategic human resources initiatives as measured by positive employee relations, improved retention, development of key talent and enhanced sense of culture and engagement. 
Ashley Ridgeway-Washington became a member of the CHRISTUS Health in 2014 and currently serves as the Interim, VP of Human Resources where she provides strategic HR leadership to the Corporate and Northeast Texas divisions. In her role, she collaborates closely with leaders to align HR strategy with business strategies to achieve organizational goals and act as a culture steward for the organization.
In addition to her full-time role at CHRISTUS, Ashley acts as an independent consultant, executive coach and trainer/keynote in a variety of industries with a focus on start-ups and rapidly growing organizations. Ashley continues to pursue excellence through
entrepreneurship as her passion to help others be their best selves, manifests in many ways. Ashley is the Founder and CEO of Hoop Shots for Kids (www.hoopshots.org). Through Hoop Shots programs, her company brings basketball fundamentals, sportsmanship, character development and fitness solutions to North Texas child development centers as a full-service basketball and character development ancillary program serving children ages 2 to 10.
Ms. Ridgeway-Washington earned a Bachelor of Science in Agricultural Business and Juris Doctor from Florida Agricultural and Mechanical University in 2003 and 2009, respectively and a Master of Human Resources Strategy from Rollins College in 2014.
Ashley holds memberships in the Florida Bar (duly authorized to practice), the Society for Human Resource Management, Dallas Society for Human Resource Management, Dallas Fort-Worth Healthcare Human Resources Association, National Employment Law Council, American Society for Healthcare Human Resources Administration and the American College of Healthcare Executives.
Additionally, Ashley serves the community through membership in the North Dallas Suburban Alumnae Chapter of Delta Sigma Theta Sorority, Inc. and as a Mentor for Allies in Service (a local non-profit which serves veterans transitioning into corporate
careers). Ashley also engages in board work and currently sits on the American Heart Association North Texas Health Alliance, Coppell, TX YMCA Board of Management, board member of the National Healthcare Diversity Council.
Although, Ashley continues to build her brand as a HR strategist, engagement Influencer, thought leader and trusted partner in the Human Resources space, she heralds her greatest charge and sense of accomplishment as her impact in her role as "mom" to Aniyah (age 17) and Robert (age 8).
—–
Donna Hughes joined the EmblemHealth Family of Companies in March 2019 as its first Enterprise Chief Human Resources Officer (CHRO). She oversees a team of more than 50 Human Resources professionals and is responsible for aligning enterprise-wide human capital strategies with the overall business plan. 
In her first year at EmblemHealth, she has focused on initiatives to drive engagement, retention, diversity and inclusion, and a high-performing culture during the company's rapid transformation. Ms. Hughes' career and contributions at EmblemHealth were showcased by Profile Magazine's December 2019 article, "How Donna Hughes Guides Teams along the 'Curve of Change'". In March 2020, Crain's New York Business named Ms. Hughes one of New York's most "Notable Women in Talent". 
Prior to joining EmblemHealth, Ms. Hughes served as SVP, Human Resources, for Impax Laboratories, Inc., a specialty pharmaceutical company. There she designed and implemented a multi-year Organizational Strategic Plan to ready the small-cap life sciences organization for business development and organic growth.
Ms. Hughes is also an accomplished attorney and has held leadership roles with various organizations, including Vice President, Labor & Employment for Allergan, plc, and Director and Assistant General Counsel for Circuit City Stores,
Inc. Her rise through progressive leadership roles in the field of law to her tenure as a C-suite Human Resources executive was showcased by American Healthcare Leader's December 2017 article, "Seizing New Opportunities for Growth".
Ms. Hughes has been a guest speaker for several local and national organizations on varied employment-related topics, including, M&A transformation, mental health in the workplace, and "Me Too" and "Time's Up" movements. Her presentations have been quoted by local and national publications including the Daily Labor Report, the Employment Discrimination Report, the ABA Journal and ROI-NJ. 
Throughout her career, Ms. Hughes has been an active member of her community. Presently, she serves on the Board of Trustees for Roots & Wings, a New Jersey based non-profit dedicated to supporting young adults aging out of foster care. As the CHRO of the EmblemHealth Family of Companies, Ms. Hughes participates in the organization's volunteer efforts serving New York communities.
Ms. Hughes received her Juris Doctor from Rutgers University School of Law-Newark, her Bachelor of Arts from Rutgers College, Rutgers University, and a Master's Certificate in Next Gen Human Resources from Rutgers School of Management and Labor Relations.
Contact   
https://todaysworkplacepodcast.com
Outline
29s Recap of the last episode topics 
3m 19s Introducing Ashley Ridgeway Washington
1m 58s Introducing Donna Hughes 
5m 29s Describe your organization and employee make up
8m 01s How did you deal with the issue of quarantine orders, sending people home and essential worker jurisdiction?
14m 37s How did you make the decision about who needed to go and who needed to just stay? 
19m s01 Did you also get involved in keeping patients safe as you were keeping your employees safe? 
27m 42s Have you seen reductions in your essential workforce? 
34m 28s What kind of concerns did you hear from your leaders about managing employees in these kinds of circumstances? 
42m 14s What are your organization's plans for getting non-essential workers who have been working remotely back to the physical workplace?
49m 04s How are you handling situations where people say they're afraid to come to work?
52m 30s What type of changes or different employee relations patterns or issues did you see arise once pandemic life set in?
57m 23s What are your top three pieces of advice you'd like to give any employer trying to figure out how to manage the new normal in the pandemic era workplace?                                                 
Transcript
Barbara: During our last episode, we had a great discussion with Dr. Westley Clark about the arrival of the COVID 19 pandemic and its far-reaching impact on the communities, businesses, and overall economy of the US and across the globe. We learned that the very new and novel nature of the COVID-19 virus has caused the scientific community to go into overdrive, finding ways to detect it, prevent it from spreading, and treating the virus. As a consequence, state and local level governments imposed a wide range of shelter in place or stay at home orders, which were designed to help STEM the spread of COVID-19. This has had a profound impact on businesses and employers are on the frontline of helping their companies decide how to safely and legally transition from their traditional workplace settings, to operations, with essential and other remote workers. Today, we have two very special guests, Donna Hughes and Ashley Ridgeway Washington, to give us an inside look at the challenges being faced by organizations with employees who have been deemed essential and who also have employees who are working remotely. What better industry to explore than healthcare? We know that healthcare workers have been on the front since the beginning of the pandemic. What better guests to share their insights than Donna and Ashley. 
Belinda: Donna Hughes is the Chief Human Resources Officer for EmblemHealth. Hughes is an accomplished and transformational executive with more than 20 years of human resources leadership and legal experience. She's a thought leader in a fast-paced, evolving industry. She's known for using her differentiated experience to drive human capital strategies that deliver positive business outcomes. Before joining EmblemHealth, Donna served as the Senior Vice President Human Resources for Impax Laboratories, where she led the human resources and internal communications functions before founding her own Human resources consultancy company. And before impacts, Donna was the global leadership team and human resources. She served on the global leadership team and human Resources leadership team for activists. Donna earned her J J D from Rutgers University school of law and her bachelor of arts degree from Rutgers College. And she also holds a master's certificate in NextGen Human Resource from Rutgers school of management and labor relations, executive and professional education program. Ashley Bridgeway Washington is a highly motivated self-directed executive with extensive experience leading successful Human Resources initiatives as measured by positive employee relations, improved retention, development of key talent and an enhanced sense of culture and engagement. 
Barbara: Ashley became a member of the CHRISTUS Health in 2014 and currently serves as System Executive Director of Human Resources, where she provides strategic HR leadership to the corporate and continuing care, which is the home health and long-term acute care organizations. In her role, she collaborates closely with leaders to align HR strategies with business strategies, to achieve organizational goals, and act as a cultural steward for the organization. In addition to her full-time role at CHRISTUS, Ashley serves as adjunct faculty in the college of management at University of Texas Arlington, where she's taught human resource management courses. Ashley continues to pursue excellence through entrepreneurship as her passion to help others be their best selves manifests in many ways. Ashley is the founder and CEO of Hoop Shots for kids through Hoop Shots programs, her company brings basketball fundamentals, sportsmanship, character development, and fitness to North Texas child development centers as a full-service basketball and character development ancillary program, serving children ages two to 10. In addition, Ashley continues to operate the law offices of Ashley Ridgeway Washington as a practicing attorney in the state of Florida with a continued focus on creating HR compliance solutions and consulting for small businesses. Ms. Ridgeway Washington earned a bachelor of science in agricultural business and Juris Doctor from Florida agricultural and mechanical university in 2003, in 2009, respectively, and a master of human resources strategy from Rollins college in 2014. Welcome ladies to Today's Workplace. Yes. Welcome to Today's Workplace. We are thrilled to have you, why don't we start by having each of you describe your organization and tell us about its makeup of essential remote and other workers. We'll start with Donna.
Donna: Sure, sure. So EmblemHealth family of companies is a organization of several brands. We have the insurance side and we also have a provider affiliate advantage care physicians. We have in total of our enterprise, about 4,500 employees. We're based significantly in New York, Connecticut, and moving up into the New England States. And we also have neighborhood care sites across the boroughs in New York. And that's an interesting part of our business because, in addition to having essential workers and providers, we provide a community support in the city to help people live their healthier lives, particularly in underserved communities. So, an extension there is that we provide, you know, anywhere from cooking lessons to exercise classes and you don't have to be a member of our insurance plan. You don't have to be a patient at advantage care physicians. It's to support our communities as a nonprofit.
Ashley: Good morning, I am employed at CHRISTUS Health and CHRISTUS Health is a pretty large Catholic healthcare system. In fact, we're actually the fifth largest Catholic, not-for-profit, healthcare system in the country. We employ roughly 45,000 associates, primarily in Texas, Louisiana, Arkansas, New Mexico. And then we also have an international operation that is primarily focused in LATAM, which includes Mexico, Colombia, and Chile. And we are a full service or full lifecycle if you will. Healthcare system with a robust hospital network, an extensive physician practice, which employs well over 2000 physicians, as well as a robust ambulatory practice and urgent care practice, and also a health plan. So, we're pretty full-spectrum and a pretty large organization in the not for profit Catholic health care space.
Barbara:  Well, let's go back to March of this year, which seems like decades ago, but it was still in 2020. And all of a sudden in March, we're looking at quarantine orders, sending people home, trying to deal with what is an essential worker and different jurisdictions. Tell us what you did in terms of getting on top of this issue. Let's start with Donna.
Donna: Sure. So, let's start by saying that it's not just an unprecedented time in the country, in the world in terms of what we're going through. It's an unprecedented time for HR professionals and really has stretched us to work and reimagine what we do in different ways. And it's really been an opportunity for us to lead the strategies in order to make sure that the business continues to run as smoothly as possible. So, in March, we had to put our many folks remote, like other companies had to do. We did so swiftly, we did have a part of our organization that was not ready to go remote, which is our call centers. So, we had to put in place the equipment and the technology to get them remote and safe for a time period before bringing them back into their call center workspaces. With respect to our provider side of the organization, which are primary physicians and other healthcare clinicians, as well as specialties, we were still open to support our communities, to the extent the services that we were providing were permitted; no electives, but certainly people had to come in because of any serious care that they needed and then certainly those who were stricken with COVID-19. And so we had our operations still open for that. And to the extent we had individuals who were remote, who are part of our provider side, we did put up telemedicine to support our communities in that fashion, which is no small feat. We did it in a few weeks, but it takes a lot because there's billing issues, there's compliance issues and so forth. But we were able to do that and support our communities with telephone and video calls for their health needs.
Barbara:  And Ashley, what about you? I know Texas's response to COVID-19 was different than some other parts of the country. So how did you respond?
Ashley: Sure. So, I will tell you it wasn't dissimilar from Donna. I don't know what the same sense of urgency initially. And I think, to some extent Donna has a large contingency of her workforce in New York. And as we all know, now New York was hit kinda hardest and first, so they were really a model for how many of us throughout the country were able to shift. And so, I would say, somewhere between that first and second week in March, we really started to understand as an organization that we were going to need to shift. And we have a very strong culture, which we're quite proud of, of being onsite worker. Prior to COVID, what we would deem as non-essential today workers, still worked on-site and we had a very small number of associates, primarily coders and things like that, that worked remotely. And so, we made the shift really quickly, but I will tell you from a infrastructure standpoint, it was quite a lift. And I agree, wrote an article Donna on LinkedIn, sometime in April that said check on your HR folks because they too are not okay because it was absolutely, I mean, we don't always think of HR as essential, but it was a huge paradigm shift to guide our leadership through. And we were really at the helm of that. And so, we made the shift and sent those who could go home and had laptops home really pretty quickly, like you Donna, we had call centers that we had to shift and get equipment. And then when you look at things like the fact that much of the equipment we purchased came out of China and we couldn't get it, right? We had to be really creative about how we were able to get people home. Now I will tell you, we still had people in the office throughout this. We removed as many people as we could, but there were people who we could not get home. And we worked to create safe planning and safe seating for them. And then we had executives who remained onsite. And so, we've always had folks at home, but for those workers that we could get home safely, we did. And then, much like Donna, we were able to stand up telemedicine pretty quickly. We had already hired a couple of years ago, a really, really smart and innovative VP of clinical innovation who had started kind of that hotel health journey with us. And so, we had a good deal of the infrastructure in place, but as you know, many of the payers were not really that fond of telehealth. And so, we hadn't pushed it in the same way that we have today because we struggled with reimbursement there. And I think that's been the challenge across healthcare, is really getting the payers to recognize it as a true visit. But we were able to make that shift quickly and get not only the infrastructure in place, but work with our physicians, our local community physicians, to be able to connect with their patients, help them to understand the value of telehealth, and really get them to adopt it. And as you remember Barbara, primarily we serve rural communities and you all know that the exchanges that happen in rural communities by and large are in person. And so it was quite a paradigm shift for both our providers and our clients or our patients, but we've been able to make that shift and been able to provide care in a really new and revolutionary way that I think won't change, which is exciting, right? I think it's one of those silver linings. And so, I'm proud of the shift that we made, but it was quite an interesting journey. And to your point, Texas had some disparate views from some of our other areas about really what should close and what shouldn't and how aggressive we should be. And so, kind of working to coordinate that across the different ministries was interesting, but we got it done and our associates are better for it.
Barbara: How did in either of your organizations, who was involved in and how did you make the decision about who needed to go and who needed to just stay? What was that driven by? 
Ashley: Sure. So, I think, you know, it was, by and large, a interdisciplinary decision, right? We kind of got in a war room and said, okay, let's look at what really needs to happen. Let's look at what the local ordinances, state ordinances are asking us to do. I mean, we're technically a essential business. And so, the reality is we really didn't have to close, but I think from a cultural standpoint, I think there's two things at play, right? There's what you should do. And then there is what is best for associates. And so, I think we balance that, right? Cause there is, whether people are safe, and then there is whether people feel safe. And I think in March, people didn't feel safe. We didn't know enough about COVID and we didn't know enough about masking and social distancing to really be able to guide associates through this in a way that didn't cause them to panic. You add that school, shut down. People went home for spring break and never went back. And so, we decided what's best for the business, but more than that, what is best for our associates? And so that was a, there was a balancing neck and a journey. And we looked at, okay, can this population work at home? And those were the people we sent home. First, you have a laptop, you have work that can be done inherently remotely. And you know, you are equipped to do that, home. And then we looked at those that maybe could work from home, but maybe didn't have the computer infrastructure. So, what does that look like? We literally, in some cases packed up people's whole desk and send it home. We inventoried it and said, take your desktop home. And so that is kind of how we did it. And then there were kind of a remnant, if you will, of associates who just couldn't do their job from home. People like in the health plan who do correspondence, right? Or people who worked on a phone system that we didn't have ability to move it from a, you know, hard line to a web baseline. And so those people remained, but we reduce those numbers, change the configuration of many of our office space. Cause we were pretty open kind of Google list office space and created opportunities for people to come to work safely, put in pre-work screening and some other kinds of safeguards. And so, had those folks to continue to work, but remain flexible. And so that's kind of how we did it. It was a balanced between business need and who we are as a culture, which is to take care of our folks.
Barbara:  What about you?
Donna: Much like Ashley, we were very focused on the safety of our colleagues. And so, you know, we had safety measures in place early on while we were then thinking about how we were going to navigate in different environments. And the leadership team was together and huddling on a regular basis. You know, every hour basically about, you know, what happens now? because remember back in March, the guidance was changing rapidly, If not at some points, minute by minute and sometimes, conflict between the governor and the mayor. And so how are we supposed to navigate those conflicts and what's the best way to do that? So, we had our chief medical officers in, weighing in on what we should be doing. We had televisions on to see was reported on at lunchtime by the governor or the mayor and also paying attention to, the different regulations in different States and really trying to make sure that we put our colleagues first, but that we were absolutely compliant as well. And as Ashley mentioned, being essential was important, but not the first priority. The first priority was keeping our people safe and giving them peace of mind so that they could take care of themselves, take care of their families, feel comfortable doing their job and, and doing it well without having to be concerned about the unknown.
Barbara: So, in you guys, in healthcare, you have that extra layer of patient population also. So, what, did you also get involved in keeping them safe as you were keeping your employees safe? Any intersection there? 
Donna: Well certainly for our patients that were coming into our medical sites across the boroughs, we have some 40 minutes of science, you know, putting in all the appropriate protocols that you necessarily needed to do in terms of the social distancing and other various protocols to make sure that they knew that we were doing our best to keep them safe. And that our employees as well felt like we were doing everything we could, you know, to keep them safe. The something else that we did though for our members who were at home, is not so much from a safety standpoint, but from a peace of mind standpoint, putting up an initiative to do reach out to those members who were shut in and confused, and didn't know what they should or should not be doing given the environment and really just checking in on them, which it was a major initiative that we did early on to say, let's not forget that there are people who are shut in at home and are trying to navigate this new situation. Many of them not being able to see family and friends in order to stay safe.
Barbara: Wow. I forgot about that aspect. 
Ashley: We took a similar approach. We were, like I said, we're in rural areas. And so, what we found is that in some cases, those rural areas weren't hit as hard initially with COVID as other places. Right? And so, we made some shifts really early on to really kind of guide our patients toward kind of a new way. And so, we started universal masking really pretty early on. We started restricting visitors pretty early on. We moved, even before we moved people home, we moved some of our nonessential workers who officed in the actual health care facility to ancillary locations. And so, we thought to the extent we can reduce the number of people who are traversing, our hospitals, that is a value add. We changed, in many cases, the way we triaged people, right? So, we, you know, designated certain sites for certain things. And we funneled associates, and, or patients through disparate locations in a way that we hadn't done before to just try to keep people segregated as appropriate. Right? So, if people exhibited symptoms that we didn't know whether it was flu or a COVID, we sent them to a designated site and they were treated there and then we had them go different places. And all of that was helpful. I agree with Donna, from the perspective of really checking on our associates as well, we really, really ramped up and invested in, in addition to the EAP services that we already had. We started building resilience training. We started building training for our leaders on how to manage remotely, but more than that, how to be present for their people, because I think managing remotely is important, but we also had to really say to them, this is unprecedented. And we need you to think about this from a standpoint of compassion and grace people may not be okay, and that is okay, but we need to lead from a place of compassion and authenticity and check on them as people first. And I read a Harvard business article review recently that said that before COVID leaders really became hypos and leaders through the organization, not only, but by delivering results, but by being charismatic and in the zoom environment, that's shifted to how are you being helpful? And associates are cleaving and are attracted to leaders who are demonstrating that they can help them as people. And so, I thought that was important to really share with my leaders and I think it's made a difference.
Donna: So, and going back to what Ashley mentioned in terms of her being in a rural community, our medical sites, or as I said, spread across the boroughs and in many underserved areas where, as we know, black and Brown people were and have been impacted disproportionately by this pandemic. And so we partnered with the city to a COVID-19 testing site in our areas and very happy to say that, that we were able to serve in that capacity in some areas where there weren't a lot of other places for folks to go because they were in underrepresented areas and hit very hard, you know, to Ashley's point about how to help your colleagues who are doing their very best to provide health care to their communities, but themselves personally, struggling with the concept of we're in a pandemic. I need to be safe. My family needs to be safe. I'm speaking to, like for instance, call center folks, I'm speaking to people all day long about this disease. Okay. What does that do to the psyche, right? Or internally. Meeting after meeting, after meeting, how many times is COVID-19 mentioned in a meeting. Okay. So, it really starts to wear on you. And then during this earlier time, when we were all new at everyone being remote, you know, meetings are increasing. People are having problems, divorcing their personal home life from their work life, which is in the very same space. And we have some colleagues who live in the city and maybe you're, in one-bedroom apartments or flats or rooming with three or four other people who are also home and remote. So, these are all considerations that are affecting how people can work. So similar to act to Ashley, we look to focus on supporting our colleagues internally and our CEO, Karen Ignagni did weekly roundups on the COVID information that we were providing and anything that we were providing to our employees attaching it to those weekly video roundups so we could stay in great communication because that was important. I did videos to the leaders as well as to the organization, first to the leaders on leading with empathy and next to the organization on caring for ourselves and making sure that we take care of ourselves. So, it really, really, really has been an opportunity for HR professionals to guide the organization as we navigate these concerns and in a really unprecedented way and there, and no stone, you know, could you afford to fail to overturn, okay. Because there's just so much going on, but we had to continue and forge on.
Ashley: I was just going to follow up with that to say, Donna you're so right, because I think one of the beautiful things that came out of this is that, your culture told on you and COVID, and I don't care what organization you were, who you say you are and who you really were showed up because when people went into crisis mode, if they were employee-centric that showed up, if they were not employee-centric that showed up too. And so, this time, I think, gave the American workforce an unprecedented view into who organizations really are. And I think we'll have a whole generation of workers in generation Y that will not forget. And so, I think there was beauty in that, but there's also opportunity for us to really be introspective and reflective as organizations to say, are we who we say we really are? And I'm proud to say that I feel like, in more ways than one, Krista has showed up in a way that demonstrated who they really were and who, and that they were consistent with their brand and their culture.
Barbara: How would you describe the change in the numbers and your workforce in terms of, you know, after the pandemic, have you seen reductions in force? Have you had challenges in retaining essential workers? what's going on with respect to the numbers? 
Donna: Yeah, so we have not had any reductions in force, mass layoffs, thank goodness. The insurance side is– the plan side is a little bit different in terms of how things operated than the provider side. On the plan side, we pretty much just can, you know, continued on as usual from a workforce standpoint on the provider side, that obviously was very different because we have medical professionals in all aspects that couldn't do their jobs on a daily basis early on in the pandemic. And so, we had to consider how could we financially manage what was occurring to the organization from a business standpoint. And I'll say our folks at advantage care physicians got very creative. They did voluntary furloughs. They did a two-week buyback from anyone who was non-union, who wanted to give up salary to support, in this regard, their colleagues so that we wouldn't have to separate anyone. Officers gave back parts of their pay in order to support those and keep them on the payroll got creative in terms of shifts. Once people did start to come back to work, but then it was childcare issues and schooling, got creative in terms of shifts because people were saying, I have my kids going to school on Wednesdays. I gotta be home. How do I handle that? And so, we were able to, speak to our employees about what their needs were in that regard and we were able to accommodate, to a great extent, of course, business has to go on. So, if we couldn't accommodate, we couldn't accommodate, but we gave our very best effort to be able to do so. And I'm very happy to say that our colleagues, on the provider side were very thankful there was a lot of thought that went into how to make sure we secured their jobs. I will say there were some voluntary departures because this was a time of reflection for everyone. And it did give some people an opportunity to step back and say, is this really what I still want to do with my life, my career? And I think, if everyone's honest about it, the pandemic and everything that's gone on in the country in the last eight, nine months, makes you think about, are you feeding your soul? Are you doing what it is that you really want to do, and is your purpose in life? So, we did have some colleagues raise their hand and say, I want to take time out to assess what I want to do in my life. And we respected that.
Ashley: I would say multiple approaches. So, it was a multifaceted approach in our clinical spaces. We, much like Donna, have complete service lines down, right? Cause at some point we were not able to do elective procedures. Now we were very thoughtful about what was elective and what was not, and really worked to make sure that patients understood the difference, right? And that some things that you made, that may be perceived as elective might not be, if we let it go a little longer. So, we were very thoughtful in that space, but we did have whole service lines go down. And we came up with a very robust and expensive program to provide support to our clinical people and nonclinical as well, and what we called a pandemic pay program. And so, for people who are unable to work, we provided them with a certain number of weeks paid. We worked really hard across our regions to redeploy people. So, if there were folks whose line was down or could be redeployed, we redeployed them to areas where we needed them, both across the lines of our clinics and urgent cares even into our facilities. But there were some folks that ended up being in a furlough. Situation throughout that situation we continued the pandemic pay program. We continued to pay for their benefits, so that they could remain on benefits. And so, we worked really hard to keep folks whole and working. And I'm glad to say on the clinical side, we saw very few reductions. So, as it related to our administrative staff, we did make some changes. And we did reduce after going into a furlough program. And what we really looked at is where we probably have, we're probably too fat in the first place to be quite Frank. As you know, there are times when we let things swell and we take on some positions that may not have to have, they're nice to have, but you don't have to have them. And so, we took it as an opportunity to really rethink through how we were working. I will say that in some cases we were pretty siloed and through some of this, we've really been able to break down those silos. Now we're never happy to see associates be in a situation where we reduce them more or there's a severance event, but we were generous in our severance. We gave quite a bit of notice and really did everything that we could do to support them as we transitioned. And so, we did have some, but I'm proud of the way we handled them. And I will tell you the majority of folks, we severed left hugging our necks as opposed to hating our guts. And I think that's always the end goal, right? And as business shifts, those folks are eligible for rehire and we continue to have what we call essentially, talent acquisition kind of parameters or guard rails in place that say, if you open up a role before you can even consider anybody external or internal who's applied, you've got to go back through this list of those people who were good employees who didn't have performance issues and invite them to at least apply and be considered for those roles. So, we're trying to keep it in the family as we kind of shift back to a more normal workforce. 
Barbara: That's great. I want to shift the conversation for a minute to talk about the experience of your leaders. And particularly as you transition some of your workforce, either transition them in how they had, beginning working on site, and especially for those that work offsite, how did your leaders react to that? And what kind of concerns did you hear from them about now having to manage employees and kind of a different circumstance? 
Donna: But I think I heard her Ashley say earlier, that her organization was not one that was robust and it's remote working, and adaptability to working remote and your comfort level with working remote. EmblemHealth a family of companies. We had the same type of circumstances where we did have some telecommuters and so forth, but generally we were an onsite organization. And so, what issues we had was really issues of a mindset and that issues that really showed up in real life. The mindset was for many, I'm not so sure that we can be productive remote. This is not a great thing, but it turned out to be exactly the opposite. We were, and we continue to be very productive, remote, and we're able to show that we could do it. As I read articles of other companies across the country, I think many are having similar experiences when faced with these circumstances, you can make it happen. And that's exactly what our organization did. And so, we have many leaders who had aha moments and recognized that it's doable. We did indeed provide tools to our leaders in terms of how best to manage a remote workforce, making sure you're checking in more regularly, making sure that you're not skipping, excuse me, skipping those one-on-ones and those team meetings but also, really thinking about what we're going through and ensuring that you have that kind of casual discussion with the employees about how they're doing because that is an important part of leadership in these circumstances, how are you doing, paying attention to them. Are the cameras off? Are they showing up late to a meeting? Maybe they are going through something. We did have several colleagues who lost family members to COVID-19 and we lost some colleagues ourselves to COVID-19. And so we did have to help our leaders manage through those very, very real circumstances and also help them express to their teams that it's okay to not be okay, speak up, take PTO, take advantage of our employee assistance programs, get up out of your chair and walk around outside and, and decompress and do those things that you need to do in order to be productive. So yes, we had to support our leaders, but it was more in terms of supporting them about this aha moment to them and their mindset of like, Oh, we can be productive externally and I can enhance it even more. One other thing I'll say, which was very interesting, which was that we use Microsoft teams. And so, we didn't have everyone on Microsoft teams when we went remote. So, kudos to our technology function that got everyone up and trained and remote and using teams by April 9th or so when we only had a small percentage on teams, when we first went remote. And my team went out and did a survey through focus groups about how people were doing from a productivity standpoint, what issues were they having? What was working well? And what we heard in many groups was that teams equalize the voices across the organization. And one person described it as every box is the same size. And so, people who maybe, weren't as vocal before, because we do have a lot of dominant D style leaders in my organization. And they don't mind me saying that because it's true. And we are making sure we manage to invite other styles to speak, but when you have people in a conference room and people on the phone sometimes those styles are not blending as nicely as you would like them to blend. And people aren't really thinking about the fact that they've got the floor and someone else hasn't had anything to say. And interestingly enough, using the video chats and using teams, allowed people to really kind of sit back and say, Oh, I'm sorry. Well, Belinda, what was it that you wanted to say and really give deference so that other opinions could be heard. That has been a great thing for our organization.
Belinda: Wow. I would've never thought about that. All squares are the same or the same for sure. I'm sorry, Ashely, any particular arising from your leaders throughout the transitions that you had to make?
Ashley: I don't think much different than Donna. I will say that we really needed to work with our leaders on that shift. I mean, we are so used to rounding the cubes, rounding the areas in and checking in that way, touching base that way, that we really needed to provide them with some substantive tools, but we stood up a guide work with some other HR leaders across the country, stood up a guide. And I think they got the hang of it really quick. I think it did prove that we are capable of eyes on hands-off right. We are completely capable of managing remotely. And people are capable of working. Now, is that who we are as an organization? No. So we'll likely go back when safe to go back to an office approach, but it does, it did demonstrate that we can do it and that we can be productive in that space. But I think very much like Donna, we had to shift and we also had to be more intentional about our leadership and we couldn't kind of rest on what we'd done before. And that, to me really spoke to our leaders. I think in terms of emotional intelligence, in terms of compassion and authentic leadership, and that kind of Bernay Brown kind of authenticity we've grown. And I think we will be a better organization and a better group of leaders for it.
Barbara: You've talked about returning employees to the workplace. What are your organization's plans at this point for those non-essential workers who have been working remotely plans in terms of getting them back to the physical workplace?
Donna: So right now, we are in what we were calling phase three, which was supposed to end around August, and then we've just continued it. And what phase three is, is really coming to brick and mortar only if you necessarily have to. And there are a lot of protocols to go through before you can actually do that in terms of doing a compliance training on keeping safe in the building. Doing a daily assessment before you go in with an app that is a health assessment and having a sign off from your leadership that whatever it is that you need to go into the office to do is something that can't be done remote. And we're doing that because we know folks are getting a little antsy about having to be home and safety comes first. So, we don't want to lean into, I'm strained by the fact that my spouse is always here and I need a little bit of headspace or, I have children who are here and I need a little bit of headspace. We appreciate that all of us are dealing with different challenges, but we want to keep people safe. So, we're a little concerned about folks coming in for reasons that are not really business reasons. And if those numbers tick up, we will have a problem. So, we have a ratio in terms of how many people can come into the office and why you may come in and then the safety protocols you have to take. Now when will we move off of that? No time soon. We are looking on the other side of January to consider what comes next for our colleagues. And we stay very, very focused on online. What the professionals are saying, medical professionals are saying, and what's occurring in our locations. You know, New York was doing great until a week or so ago, and now we are taking up and there are some counties in New York where their municipalities are saying, please stay home because we don't want to have to revert to closing businesses again. We don't want to have to bring kids home from school who are going on an intermittent basis. I think I heard the other day that, you know, there's only two States in the country that hasn't had an upward tick, that is more meaningful than when we first started in the last couple of weeks. So, we're about to see something else occurring here that could be really problematic. And we want to make sure that any guidance, anything that we do is really keeping our colleagues safe, but is guided by what is real, what is going on in real-time, what our external agencies are saying and what our internal medical professionals, our chief medical officers are advising us to do. 
Ashley: So, by contrast, our executives are back, by and enlarge. If you're sitting at the system office, they're here, they have offices and so they're able to be here and we're actually in the process of returning directors. So, to give you kind of some insight, we normally have about 2,600 people sitting between two campuses that are right next to each other for two buildings, five floors on one, and then three fours in the other building. And so, we will, when the directors return, have roughly three 50 to 400, so less than 25% of the total number of associates who we have historically had housed here will be here. We've got pretty significant safety protocols in place. We've developed what we call a return to office protocol, which includes a live webinar that associates must take and kind of go through before they return or return to office playbook, which is a really pretty comprehensive guide that walks associates and leaders through kind of the behaviors that we need to see from them, but also the safety commitment and investments we've made and how things have changed in the way that we work in the building. And so, of course, we've reduced the number of people in elevators. We've increased the number of sanitizing stations. People were required to mask in common areas and although they can be unmasked at their seats, we kind of have an organizational Quip where we say, if you leave your space, mask your face. And so, people really have a [inaudible 47:40] to that. And we also have the pre-work screening app that you have to complete, and that if you fail it, you're not allowed to come to work. And then you scan that as you walk into the building, and then there's a random selection of people who are screened for doing infrared thermometer that basically takes your temperature. And so, we have done some pretty robust things in terms of making sure that the building is clean, ramping up cleaning and providing all kinds of sanitizing products for associates in their immediate spaces. But we are in the process of returning folks. I don't, I think we are eager to return, but we're also intentional and cautious about it. So, we're working closely with our infection provisioning and our occupational health team and our CMO. And I don't believe that we will see associate level folks come back before sometime in early 2021. But our approach was that we should have leaders go first so that they can model those behaviors and then be prepared to lead their associates through a paradigm shifted. So that's the approach we've taken and we've kind of got kind of 30-day cycle, but it'll be come back to the office, observe after three weeks, for two weeks and then determine whether it's safe to bring additional people back. And so that's kind of the approach that we're taking.
Barbara: And a related question is how are you handling situations where people say that they're afraid to come to work mean afraid to go. We're afraid to go back to the workplace because they have people who could be compromised at home. How are you handling those?
Ashley: We actually built; I actually built an accommodations process. And so, what we are saying we are still committed to flexibility. People, I'd say 80% of the students in Dallas, Fort Worth are not in school. They are at home. And so, we recognize there are people with childcare issues, people who are caring for vulnerable people, or people who have their own health vulnerabilities. And so, what we have asked them to do is work with their leader to document what their concern or what their barrier to return is. If they're slated to return and then ask their leader to work with them, to determine what the appropriate approach is. Whether that be kind of a hybrid approach or whether they stay home, we're working to determine what's appropriate. And what we found is that by and large, the leaders are flexible. They allow people to remain at home in this space and we kind of re-evaluated on a periodic basis, but it allows us to do a couple of things. One, it allows us to have a really good sense of who's in the office, who's in the appropriate phase, and who's not. But then the other thing is we are able to kind of document and track trends of really where people are and what their needs are. And then we are working to respond to that. So, a great example of that is, we recently partnered with Bright Horizons to bring an emergency childcare option to all of our associates. And so now associates have I believe up to, I think it's 10 days per year that they can have free emergency care for their kids. So, if we're in a situation where you're back to work, and like I recently had an HR business partner whose child's daycare was shut down for 14 days, because there was a small outbreak. Well in that particular case, she was worked remotely for those 14 days. But now if there's a situation where that doesn't work and we need her in the office, we've got some support that is free to her or very diminimous cost to her to provide support. And so, we're really working to be flexible and responsive.
Donna: Similar to what Ashley just stated. When I described before our phase three, that's our corporate offices, but our medical sites are busy now. And when we had in our earlier phases one and two, those who have to actually also be out in the field, such as our sales reps on, on the plan side. So in those populations that are either patient-facing or community-facing, we have had to deal with the question of either a personal medical condition or being exposed to someone who may be tested positive, but not sure if I have it or not at this moment or caring for individuals in the same household who maybe are at risk and similar to what Ashley stated, we're focused on flexibility, but going through an accommodation discussion to determine what is the right thing to do under the circumstances. And as you all know; it can be a case by case type of situation. 
Barbara: That's interesting. I really, I want to talk about one of the more interesting aspects of the work that we all do and that's employee relations. And I wanted to know what type of, I heard a big sigh from somebody. I wanted to know what type of changes or different employee relations patterns or issues did you see arise once pandemic life set in?
Ashley: Can I? I'll take this one first. I will tell you our biggest [inaudible 52: 59] time and attendance, right? We have a historic record of people coming to work when they are ill. That is just the nature of the job, right? People, unless they are contagious, hacking, cough and falling out of their chair before COVID, people came to work sick. And in many respects, it was kind of an expectation unless you were so ill, you couldn't function that you came to work. Well, we particularly in like our call centers and our financial services where there is a lot of people in close proximity historically, and kind of, for lack of a better word, you know, productivity-based work. People were penalized for calling in and for not being able to come to work sick. And that was a huge shift for, I mean listen, if people are sick, they cannot come here. They cannot come to work. And even where we've returned certain, departments because they have to be here to do their job. We had a really, really tough time getting leaders to get it. That they cannot come in here sick and you cannot penalize them. So, then we went kind of all the way to the other end of the spectrum, where they were just letting them not hopped on zoom late and a whole kind of flexibility the opposite way. And so now we are trying to calibrate it back to some kind of reasonableness, but I think what we saw is that because we said be compassionate and be human, people just kind of let things go and kind of gave people a full umbrella of grace. And now that we are six, eight months into this thing, people are like, okay, wait a minute. There does need to be more active management. And so, we are guiding through what that looks like. We've recently really pushed what we call pitter reports. And it's kind of a weekly report where you share with your leader kind of what your priorities are, what's coming up, where there might be trouble spots that you need assistance on. Any other things that they need to know. And so that keeps the communication going and even sharing that within a department. And so, we're working on that, but I will tell you, it was all one way, all another way. And now we're kind of coming back to the center. 
Donna: I would just say, and I don't know that I would call it employee relations issues. We would define it as that, but externally, when you say that folks think all heck is breaking loose. And I would not describe this as all heck is breaking loose, but we did have our customer service population which we had to get all the equipment to get them remote, so that took a little bit of time. And then they we had them remote, but then the technology is different for call center than it is for corporate offices and also there's training for new people coming in. And that was a little bumpy and we made the decision to bring them back into brick and mortar until we could soften those rough edges. And so initially that was a bit of a shock to the system. You're bringing us back? I thought we were staying remote. And so, there was concern about safety with a lot of training, a lot of work on the protocols. And there were some employees that just we're not comfortable with it. And we had to have a lot of guidance and discussions with leaders about how to handle behaviors, because it is a business and we want to be empathetic and we want to be supportive, but we have a business to run. And to Ashley's point, we have policies and procedures in place, and we all need to be governed by them because there's a pandemic doesn't mean that you get to just say, do whatever you want. And so, we manage those issues and definitely, once we got over those few little bumps, everything was fine. And the call centers are just humming along quite nicely. But we knew that there would be a little bit of abrasion given that they were remote and then had to come back.
Barbara: As we wrap up this episode, what are your top three pieces of sound advice you'd like to give any employer out there trying to figure out how to manage the new normal in the pandemic era workplace?
Donna: Well I would say, when we talked about how this is unprecedented, companies do plan for crisis, but they don't plan for this type of crisis. We plan for cyber security attacks and for those of us who are international, we plan for tsunamis and, earthquakes and things of that nature. We don't plan for a pandemic that is going to be very long lasting without really an appreciation of when this thing will turn around. And so, I won't say that there's there, wasn't a playbook for Ashley and I, and I won't say there's necessarily a playbook going forward. There is, in terms of, there's a lot of information that we all just discussed. It's very helpful, but let's just assume that there's something else down the road that's unprecedented that we've never had to deal with before. The advice that I would give to HR professionals that have gone through what Ashley and I have gone through is to be ready to take a new seat at the table, we should always be ready to take the strategic seat, but this is a new strategic seat. Be ready to influence, be ready to bring, challenge, and change to the table and really be the front leader. You and your CEO will be the front leader on what's going to happen with the organization and be ready to push back, because this has been greatly impactful to our employees. And if you don't meet them where their needs are, you do not have a business. And we just got finished talking about how we met them, where their needs are. And there were lots of things that we discussed in my organization that initially was like, Oh, no, we shouldn't do that. Or no, we shouldn't do that. And the conversations that you're having with colleagues from a personal nature is something that we've always kind of shied away from, but you have to have a balance there to be really empathetic to what's going on. So, I say be ready to influence, be ready to be strategic, think, way out the box in terms of how you meet your employees where they are and what their needs are so that they can continue to be productive. And then lastly, I would say, make sure that as an organization, you stop to celebrate the wins, because when you think about what organizations have done, certainly when I think about what we have done during all of this, it is quite remarkable how well we've done in terms of maintaining our strategy, staying long goals, but still meeting this very big behemoths thing, that external force of this affecting our organization. So, celebrate those wins because you as individuals, leaders, the organization, we deserve to celebrate each other. 
Ashley: So, I would say first, we have a kind of saying in my department, and we call it NFO and that's no freaking out. So, let's start there and say no, freaking out. I mean, yes, this is unprecedented. Yes, it is a huge challenge, but it is not insurmountable, right? And what we find is that when we come down off of the emotional kind of rush associated with this kind of event, that really what allows us to navigate this successfully are those same behaviors we were practicing before, right? Attention to our associates, being transparent, being communicative, doing those things that really make human capital strategy work. And the reason why it's so important. So, kind of staying true to that. I think that is keeping a level head and kind of developing a plan and being flexible is really important. Secondly, I would say, give grace, and receive grace. I think this has been a lesson and people walking in their imperfections and their humanities and their vulnerabilities because many of us went from both, in our personal and professional lives to being completely okay. Shifting to not okay. And we, particularly, as people of color, have been conditioned to show up in a pretty perfect way without regard to what is brewing below the surface. And I think this pandemic, I think the social injustice that we've seen resurfaced or be prominent has really impressed upon me that it is ill-advised for people not to give grace and not to accept grace when they need it. And then the third thing that I would say is throw the box away. We are not going back to normal. Normal doesn't really exist. We are redefining work in this era. So, don't even talk about the box, throw it in the trash, figure out what works Britt Barrett wrote a book that I love, and it's Patients Come Second, or Patients Go Second. And really what that's about is understanding that when you focus on your employees, when you invest in them and when you show up for them, they will absolutely show up for you. And I think part of that is understanding that we do have to meet them where they are, and we do have to attend to who they are as people. And then when we do that, they will absolutely show up for us. But if we expect that we don't show up for them, that we don't meet them where they are, and then that they're going to go and put their lives, literally in health care, on the line to treat their patients, to leave their own children and treat someone else's children, to come into health care environments when their kids are at home trying to figure out how to get on whatever class or zones they're going on. To, in many cases, be in the garage sleeping to keep their family safe because they've been exposed. If you think they're going to do that, when they don't see that you care about them, you're wrong. And they may not leave you today, but they will leave you at some point. And so, I would say, throw away the old commit to whatever is going on from an agility perspective and meeting people where they are and expect that people will do what they do, which is rise to the occasion because they always do.
Barbara: Yeah, that's awesome ladies. Wonderful, wonderful guidance, and advice. And we've had a great conversation about essential workers and remote workers in the healthcare setting with COVID-19. And we really like to thank you for providing us with all of the insight. I think that this is going to be a very wonderful and resourceful sort of conversation for other practitioners to especially understand that they're not alone. So, thank you so much for joining us for Today's Workplace.