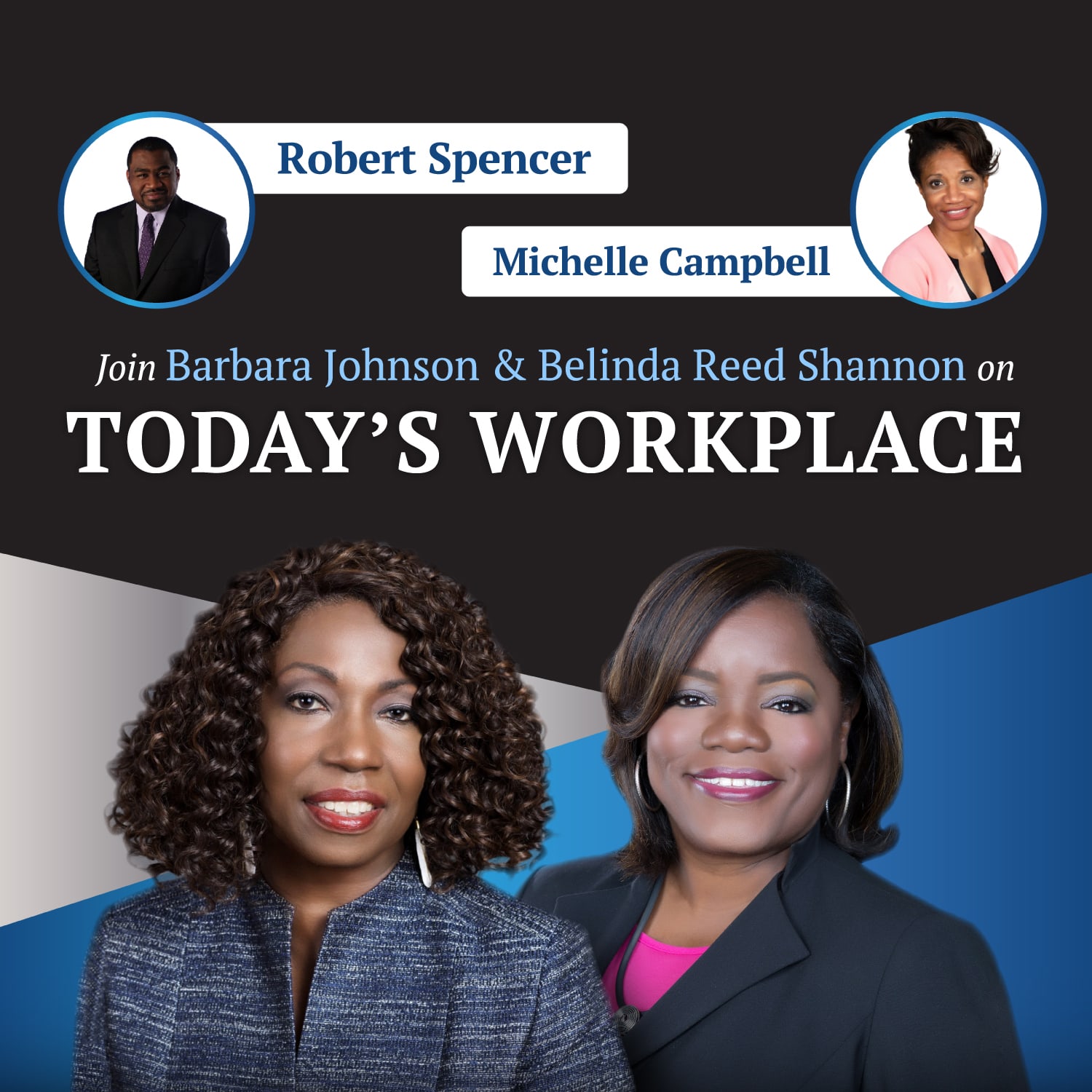 The views expressed on today's program are those of the speakers and are not the views of Today's Workplace, the speaker's firms or clients, and are not intended to provide legal advice.

Summary:
After months of navigating the novel coronavirus, employers have now been on the frontline of helping their companies decide how to safely and legally transition from their traditional processes for recruitment and talent acquisition, to an entirely new set of protocols and processes designed for a quarantine and post quarantine world. Recruitment professionals have had to deal with the altered landscape of hiring possible employees since COVID-19. The most obvious alteration to the recruiting landscape as been the balance of supply and demand. This was due to supplies going up, as people were getting laid off and the demand declining to some degree, and as a result, we are witnessing the acceleration of what was already a systemic issue in regards to the wealth gap in our society, between the haves and the have-nots, the blue-collar and the white-collar. As some can work remotely as opposed to those in the service industry, who do not have that luxury. Recruiters have now taken different approaches to interviewing candidates, using mediums such as zoom, where meetings are being done remotely and the idea of zoom etiquette is a priority. 
There has also been a significant change in the recruitment hiring process as employers try to figure out how to mitigate onsite risks. And one of the ways they choose to do so is by trying to reduce the number of people that would need to be trained through these protocols, which have become even more detailed and extensive due to the virus. In addition to this, employers are concerned about retaining their workers and selecting them in terms of whether or not they will hold the position for extended periods of. And in keeping with the safety requirements, client organizations continue to struggle, particularly those that are doing business across the country. As they put together their guidelines, they must consider the guidance that has been issued by public health authorities among the different states, which may be proven difficult, due to the constant change in protocols. 
Recruitment professionals have been witnessing varying views on the idea of remote work among the various generations within the working population as the baby boomers welcome the idea of remote work but the younger generation does not. And many workers share the sentiments of its younger workforce, as these companies are adamant about having workers return to their offices, rather than working remotely due to concerns about worker safety, but also potential compliance and liability issues as well.
Joining us today are Michelle Campbell and Robert Spencer. 
Michelle is a trained engineer and counselor with national experience in developing effective operation and employee systems that impact productive work environments. Her practice areas have included: corporate systems analysis, workplace investigations, diversity cultural audits, operations assessments, mediation, and executive coaching.  She has successfully developed numerous corporate operations plan that involved transforming an organization's employee policies and developing new strategies for organizational effectiveness.
Robert Spencer has over 25 years' experience in human capital management and corporate governance. He has served in various leadership capacities in diverse industries and for four Fortune 500 companies. He was Chief Human Resource Officer for Kelsey-Seybold Medical Clinic, and Chief Ethics and Compliance Officer for Compaq Computer Corporation. Currently, he is the owner of an Express Employment Professionals franchise serving northwest San Antonio and the owner of Specialized Recruiting Group which does professional staffing nationally.  A native of Austin, Texas, he has a bachelor's degree in business from the University of Houston-Downtown, a master's degree in management from Texas A&M University, and a law degree from South Texas College of Law
Robert's civic and volunteer activities include serving as past President of the University of Houston-Downtown Alumni Association, an executive committee member of Houston Citizens Chamber of Commerce, President of the Board of Directors of Volunteer Houston, Board of Directors of the Native American Chamber of Commerce – Houston, Advisory Board Member for Dean's Professional Services, and Chairman of the City of Houston's Mayor's Affirmative Action Advisory Commission.  He was also appointed by the mayor of New Orleans to the New Orleans Workforce Investment Board where he served as Chair.  Robert is an alumnus of Leadership Houston's Class XVII, United Way's Project Blueprint Class XXI, the Center for Houston's Future, the Texas Lyceum, and the New Orleans Regional Leadership Institute.
Contact   
https://todaysworkplacepodcast.com
Outline
0m 27s Summary of previous podcast topic 
2m 15s Introducing Michelle Campbell
3m 35s Introducing Robert Spencer
5m 28s How has COVID-19 altered the hiring landscape and what it might look like post quarantine?
4m 16s How has COVID changed the approach to recruiting and the recruiting and hiring process?
20m 49s Are you seeing anything different in terms of how corporations are evaluating candidates?
 24m 40s Even though people are working remotely. Do jobs indicate that at some point, this job will be located in a specific area?
29m 49s Tension between employers and employee about returning to the office to work as opposed to being remote. 
33m 04s Are employers allowing employees to congregate in the workplace?
34m 01s What are your biggest and unexpected challenges once the pandemic hit?
39m 38s What are the concerns that your clients have had, concerning the changes in the recruitment process? 
44m 56m Are there any concerns from the candidates about the new process being done remotely?
46m 39s Any advice you'd like to give any recruiter trying to figure out how to manage this new normal and the pandemic era workplace?                                          
Transcript
Belinda: Welcome to Today's Workplace. During an earlier episode, we had a great discussion with Dr. Westley Clark about the arrival of the COVID-19 pandemic and its far-reaching impact on the communities, businesses and overall economy of the United States, and across the globe. We learned that this very new and novel nature of this deadly virus has caused the scientific community to go into overdrive, finding ways to detect it, prevent it from spreading and treating the virus. As a consequence, state and local governments imposed a wide range of shelter in place and stay at home orders, which were designed to help stem the flow of the COVID 19, but this has had a profound effect on business, as we all know, and employers are on the frontline of helping their companies decide how to safely and legally transition from their traditional processes for recruitment and talent acquisition, to a whole new set of protocols and processes designed for a quarantine and post quarantine world. So today we've got two great guests who are going to give us an inside look at the recruitment, talent, acquisition, and onboarding challenges being faced by organizations during this era of the pandemic; Barbara. 
Barbara: We are so pleased today to have Michelle Campbell and Robert Spencer join us for Today's Workplace. I'd like to start by having each of you describe your role as a recruitment professional and describe the customers and industries that you typically provide those services for.
Michelle: Well, thank you, Barbara and Belinda for having us both on your show. This is just fantastic. I think it's always such a timely topic of talking about what's going on in the workplace, particularly during COVID. At Diverse Talent, so I am the CEO of Diverse Talent. We are a professional staffing and placement firm here in Denver, Colorado. So, I'm in Denver, Colorado. We also have an office in Kansas City and Diverse Talent actually began with this whole mission of providing our candidates and our clients with an opportunity to work with and partner with corporations that are really committed to diversity. I've been doing this work for about 25 years, and I say i've been doing it in terms of, not through the eyes of Diverse Talent, but as an engineer, people always saying, where in the world are you finding these diverse engineers? Where are you finding diverse legal attorneys? things like that. So, we launched Diverse Talent with that admission. It's not only helped our clients find diverse talent, but really to fill the notion that they're not there because I promise you, they're here, they're here to stay and it's only getting larger. So, with that again, I thank you for allowing me to be on the show today.
Barbara: Thank you and Robert. 
Robert: Okay. Thank you, Barbara. Thank you, Belinda. Oh, well, similar to Michelle, I've been doing this type of work, talent management work for over 20 years. I started out working in fortune 500 companies in their talent management organization in human resources, doing a variety of things that HR generalists do. Mostly focusing on succession planning, staffing and all the various sundry things we do. So, I started out in Houston in the high-tech industry. I spent some time working in the natural gas industry, spent some time working in healthcare, and then eventually spent some time working for a utility company based out of New Orleans. And after over 20 years doing that inside large organizations, I now run express employment professionals out of the San Antonio office. And what we do at express, is we support clients in all industries; two divisions, my traditional express employment professionals division handles office services and light industrial. And then the specialized recruiting group handles a lot of my white-collar staffing, doing a number of positions and upper-level parts of organizations like CFO, position, sales manager, director of HR, engineering, law. Whatever's necessitated more at the upper echelons of the organization. So, we've been doing that. That's a new venture for me. So, I'm now an entrepreneur, much like Michelle and so enjoying having the opportunity to continue to interact with corporate world. But now on the other side of the desk, more selling into organizations instead of running talent management organizations.
Barbara: And both of you have had the courage to start businesses in the middle of a pandemic. So, congratulations for that. 
Michelle: Absolutely. 
Barbara: So speaking of the pandemic, I'd like both of you to tell us a little bit more about your observations, about how COVID-19 has altered the hiring landscape, you know, and also tell us how it was before, how it is now and what you think it will be once society and business are able to move past the pandemic quarantine phase. I'd like to hear from both of you.
Michelle: Yeah. I will never forget back in 1988 when I started my career as an engineer and working for a company as an engineer. And at that time, and I still am very involved with NSBE National Site of Black Engineers. They used to tell me all the time, Michelle, we don't know where to find engineers. We don't know where to find engineers of color, particularly black engineers. And at that point, coming out of engineering school in that time period, I had my pick of the litter. I could really go to any company and as a woman with an Emmy and IE degree, I know that I could have a secured position. That has not changed, believe it or not to today, one of our largest clients that we work with, for example, Honeywell, they always are asking Michelle, we're still looking for those engineers of color. And the reason being, is we're not seeing in our verticals, at diverse talent. We're very specific about the verticals that we focus in on, and that is STEM. So, science, technology, engineering, and math. We know that very well. We're very plugged in and tied into those associations that feed that pipeline of those sorts of tech talent. And we're also very focused on the legal market. So those two are our verticals, those two verticals we know very well. So, with that, what we've seen is that the growth, the number of engineers or the folks coming out of with a law degree have not increased at the magnitude that we project and that's pre-COVID. Now during the pandemic, we have seen, and we still see folks saying, these are very solid technical degrees. We're still hiring. We want to hire; we need to hire. Now we know in the legal market, there has been large firms, particularly the larger law firms that are really scaling back depending on your practice area. But we still have seen an influx in an increase in the technology because of this. We're having a zoom call right now. We had the CEO and founder of zoom on one of our webinars that we do. We do our webinars, every Thursdays, talking about what's going on, talking about who's hiring. Who's not hiring. And so, our two verticals are very active. They're very still hiring. So that's what we see during the pandemic now. What do we see after the pandemic? We still see the increase, those two strong verticals in terms of the legal market, depending on what practice area you're in, and also in the STEM area, we just see a continual growth. So that's what we see. That's why I continue to say with our students in college, you don't get those technical degrees, you know, get that JD degree, get very focused because our country is leading towards that, that those verticals.  so- 
Barbara: So, you didn't see any impact from folks having to stay at home, some having to stay at home, the essential workers having to be present in the workplace, some essential workers making a decision not to so they can see is created that way. You didn't see any of that, any disruption there?
Michelle: Yeah. One of the other areas we do focus on, the medical, which is an essential worker area, but we have not seen the impact as such, for example, some of the other staffing firms that work with the [unintelligible 09:27] labor ready, the staffing models. We are more of a placement model. So, it has not effect affected us that much, we haven't seen that big of a change. What we do see is that in the main technology is just growing. We cannot seem to keep up with finding that talent that has those degrees. Now what we do see that it's supply and demand, right? So, a lot of folks have been laid off from various fields. So, we see a lot of candidates in the market, but really again, now we're able to really weed through and find those candidates that can really be of service to our clients. 
Barbara: And what about you, Robert? Tell us about your insights since COVID has come about. 
Robert: Yeah, Belinda, I would say the most obvious change in terms of how COVID-19 has altered the landscape of recruiting is simply the supply demand piece. I mean, pre- [inaudible 10:26] all the staffing organizations you talk to will tell you the difficulty was finding good people. It's really hard to find people. And when you think about the two sides of this business. On the sales side, trying to go out and talk to companies and convince them to give you job orders versus the recruitment side, when you're trying to go out and find talent, everybody would tell you back in December, in January, I've got the customers. I just can't find the talent. And so, [inaudible 10:55] changed when COVID-19 happened, was the shutdown, large numbers of clients decided not to hire, large numbers of people were laid off. And so, you had a significant shift in the whole supply demand dynamic because your supply went up, as people got laid off and the demand really went down to some degree. And so, many of the job orders, many of the recruitment requests dried up, not only because of the actual economics, but because of the uncertainty, as we all know, businesses don't like uncertainty. And so, when they're uncertain, they are more cautious. They get scared, they hire less. And so, the most obvious difference, the most obvious alteration to our recruiting landscape, because of COVID 19, was the supply demand equation. Now, your question to Michelle about sort of that lower in, I can sort of speak to what I perceive as sort of the bifurcation that's been accelerated because of COVID. Yes, on the professional side, when we're talking about what we traditionally have called white collar workers who are highly skilled degreed, there's always going to be demand for scarce talent and the folks who have those advanced educations, that's a scary number of people. But on the other side of the equation, the service industries that have been hit so hard. I don't think some of those are ever going to come back. I look at restaurants, for example, when I drive by some restaurants, not only are they not open now, but the names have been taken off the building, which not coming back. And so, when you ask about what's it going to be like in the future, I think we're witnessing the acceleration of what was already a systemic issue in our society around sort of the haves and the have-nots and old dynamic we used to talk about, about blue collar and white collar. I think it's going to be exacerbated because those folks who were able to work remotely were typically those people who were probably the better paid people, anyway, a lot of office workers who now just use technology to work from home. When you can't work from home, if you're in a service industry, you can't work from home if it's your job to turn the wrench on a piece of equipment. You've gotta be where the piece of equipment is. And so, I think that's really going to be the unfortunate thing that we're going to see is a continuing bifurcation of our society and a continuing hardship for a lot of the folks that have worked on the service side of the economy.
Michelle: I do agree with that wholeheartedly. I mean, you will see those that are the skilled labor that unfortunately again, to your point that, restaurants and things like that are folding up. Again, if I talk about the verticals that we focus in on, we're not seeing, I just remember even I just got a job order for the wills and estate and trust attorneys. I can't keep those in stock. I mean it's one of those things where there's just such a high demand. Employment labor attorneys, that sort of thing. So, it just depends on what industries or what verticals we're talking about, but yeah, it's interesting.
Barbara: Okay. Let's, do a deeper dive into looking at how changes since COVID had changed the approach to some significant aspects of recruiting and hiring process. So what are you saying? I suspect they're not as many face-to-face interviews, but what are you seeing in terms of kind of the tactics of recruitment and how that is changing around? How are people conducting interviews? What are you seeing in terms of onboarding and the time to fill positions? We'll start with Robert.
Robert: Yeah. Okay. Thank you. So, again, as you said, the face-to-face interview for probably the piece that is readily apparent, obviously you're doing a lot more interviews over various pieces of technology. Now, whether you're talking about Microsoft teams or whether you're talking about zoom calls, a lot more of those interviews are being done remotely. And I also think to some degree, what we're also seeing is clients, again, going back to more of the skilled trades and the light industrial side, where you have temporary workers. We're also seeing a lot of those clients make decisions to say, we only want people to come work at our site who have worked at our site before, because as you go through this process of COVID, you're now getting people tested. You're now putting in protocols about where people should stand and how they should place themselves in a facility. And once people learn those protocols, and once people get those tests, you tend to want to continue to use those people. So, you don't have a new cadre of people coming in who may have not been tested yet, or who may not know the protocols around how we're trying to make sure we maintain social [inaudible 16:10]. And so, that's been a significant change in the recruitment hiring process as the client organizations, having a desire to try to figure out how to mitigate this risk. And one of the ways they choose to mitigate that risk is by trying to reduce the number of people that they've got to send through the protocols. Also, of course, the protocols are longer now, right? In the past, maybe you could send someone after they've done a few things with regard to preemployment type things, but now because you have these other layers that you're putting in, at a minimum, we're doing temperature checks, right? You're also doing a lot more questionnaires now. Where have you been, who have you come into contact with? These are all adding to the process of the steps we have to go through during the recruitment process. And so, it does elongate the process somewhat, but it's all about safety. And so, everyone understands. And I would say, all of the candidates have been understanding in terms of the additional protocols we've put them through, that they know we're living in a different time now, but I think the client organizations continue to struggle, particularly those that are doing business across the country. As you put together your guidelines to say, these are the protocols we're going to use, everybody's having to put in that caveat language that says, okay, but this guidance is subject to the guidance that's been issued by your applicable public health authority in your jurisdiction, right? Because each state may be doing something different within a state, you may have cities doing something different. And so, that process has been somewhat confusing and also inconsistent because the authorities themselves sometimes change what they want the protocols be. So, all of that is putting an extra strain on corporations to try to be nimble and responsive and adjust appropriately, to deal with those various jurisdictional elements.
Michelle: Our process is. And again, you hit on it on, is the interviews are zoom calls. The candidates, we will- once we get the candidates resumes and such, we will actually even have them do a recording of themselves to introduce themselves, which has been really great, our kind of clients really enjoy that because it gives them a chance to really kind of see the person's personality, their persona. It's really interesting to see what the clients even look at. They even look at their background. What's on the background screen. It's really interesting, the stuff that they look at. And so, that's all telling. So, we're finding ourselves, coaching our candidates, even on what to wear, what to be in their background, what not to have in terms of the echoing and the noises and the kids walking by and that sort of thing. So, we find ourselves doing more zoom etiquette than anything and making sure, cause you know some people just don't use it and don't have it. And that's another thing for our candidates that maybe are college graduates or there are second year college graduates and they don't have the best technology. We do. We have a space where they go and we make sure we have our recording and that sort of thing. So, we don't have to have that undue burden. One thing is that we want to take out anything that's going to prevent them from presenting themselves well. Again, Diverse Talent is what it is. Our skillset and our focus is bringing diverse candidates. So, we don't want any barriers whatsoever, but they'll do the zoom. They'll do the video. And then we will upload those to our secured link to our clients. And then they have a chance to see it. And then we'll take them through a second interview. Many times, it is zoom. The clients that we've been working with for many years, although Diverse Talent was just born, we've been doing it-
we have clients that we've been working with for years. So, we have access to their corporate offices. And so, we will have one-on-ones there, where we'll have dividers and that sort of thing. So that way the candidate still has a sense of comfort in that environment. They get a chance to see what that environment would look like. Again, many of our clients, they're at the offices. Yes, they have protocol. Attorneys are working, law firms are open. Our technology clients they're open. It may be limited, but they'd really have put many of those measures in place to make sure that they can continue operating.
Barbara: I'm curious, Robert, what are you saying in terms of any differences that companies are taking in terms of how they're evaluating candidates? You talked a little bit about the safety precautions that they have in place, but in terms of the actual interviews, are you seeing anything different in terms of how corporations are evaluating candidates?
Robert: Yes, Barbara, I am. And the good news is, I think some of our clients are being much more open-minded about how they evaluate candidates. I mean, I can remember pre COVID, there's a lot of organizations that were so sure that they had to have people working in the office, down the hall from their peers. And that was like mandatory, no exceptions whatsoever. And then, once COVID happened and people started to work remotely, guess what? it actually worked. We were able to successfully have meetings and successfully get business done and successfully hit our objectives. And so, I think it softened some of that hardened stance around for our quote unquote permanent hires, whether or not they really need to be co located. I was talking to an organization here recently, that's located in the Midwest and they were very comfortable hiring somebody to work for them. And in a cybersecurity area who was going to be in Atlanta and pre COVID, they would have never agreed to that. But they've learned now that they really don't have to have everybody co-located and they really can successfully execute objectives even without everyone being right down the hall. So that's been one of the changes I've seen in terms of how candidates are evaluated, a very positive change in terms of being more sensitive to this idea that we don't all have to be co-located. One other comment I would make around the evaluation of candidates themselves. If I do think there's been some consideration, some of the companies have taken into account, and again, this would be at some of the more office services type positions, not the high-level positions that Michelle and I were talking about earlier. But when you think about more of the industrial positions, I do think some of the employers are wondering whether or not some of the candidates are gonna stay with them. Long-term, in other words, there's been such displacement, every thought of COVID, that a lot of people are interviewing right now. And one of the evaluation considerations, I think, some of the clients are thinking about is, if they accept the job will they stay? or is it just their COVID job and to go back to whatever they were doing prior to COVID hitting. So that's another evaluation piece in terms of what I'm seeing the clients talk about differently, that they were not talking about sort of pre COVID Barbara. 
Belinda: So-
Barbara: Go ahead, Belinda 
Belinda: I was going to say that's something I hadn't heard or read about. So, in other words, where they have candidates that were either laid off or the business closed because of COVID, there's a question now about how long they would stay at their next employer or because if COVID passes by and the business opens back up, will they swing back to that? 
Robert: Exactly. Exactly. Belinda. So, if your love is the hospitality industry and that's where you were before, and now you're going to do something different because after all you're unemployed, but it's not in the hospitality industry, this new employer wonders, okay. Is her true love, really hospitality? And if that kicks up again in 2021, is this person going to leave me in six months? Because, what they really want to do is work in the hospitality industry. Just as one example.
Barbara: Now, one of the things I'm curious about is, given that people are working remotely and working from all over, when companies are recruiting, are they indicating that at some point, this job will be located in X or is that just kind of left open at this point? And maybe Michelle, you can share what your experience has been there.
Michelle: Yeah, it's really interesting. We actually just had a paralegal and she really got comfortable. She wants to work from home and law firms are being very specific that this is a in-office position. So that's been really interesting. So, we found ourselves kind of trying to coach the law firm a little bit and saying, is that the reason you want everyone here or because of these X reasons? And they said, absolutely it would. Would they even consider one or two days? And they're really adamant that law firms, specifically, and again, I'm just talking about the verticals that we recruit in, but those law firms really want those folks in the office and the paralegal, she has said, Michelle, I don't want to be, I want to have at least one or two days in the office, and I want the rest of the days at home and I still want to get the pay the same salary. So, all these things, it's really become this really interesting time, where again, with the areas that we recruit for. Now, some of our technical positions, they can be at home. However, what I'm finding, which is really interesting, a lot of the younger people want to be in the office. They're saying, listen, we don't want to be isolated. We [inaudible 26:32] I'm working off of my TV tray. And so, it's so interesting. Or when you're in a law firm, you need this and you need this, you need the stand-up desk, you need this to go up and down and all this stuff, and now people are operating off of their TV tray. So, they're becoming very grateful for whatever that the law firm- just give me a space to go to, that my wifi is not shoddy, that I have a desktop phone and that my desk doesn't wobble because of the TV tray. And so, it's interesting to hear where in terms of generation, the baby boomers and older are saying, I'm okay with not getting on the highway anymore. And the younger folks are saying I don't need to be isolated, I'm kind of really tired of being on social media all the time. I really want to connect. So, it's a very different switch that we're hearing, but our clients, particularly the ones that we recruit for are saying, we do want people back in the office.
Belinda: Robert, what has been your observation?
Robert: I'm actually seeing companies literally post jobs and tell people right up front that this is temporarily going to be located at home are typically going to be located in Dallas. You know, so they'll be very upfront to tell people right up front that we're headquartered in Salt Lake City, but temporarily it's going to be okay if you do this. And that's an interesting choice for the candidate to make, right. To really kind of think through the job you're being offered both in terms of, what it means in the short term, but then also what it may mean in the long term for you. I think to some degree, Barbara, what I'm also seeing is some of the companies want to have hubs. So, they're not going to let you work from home, but you can work from one of our satellite offices. If we have an office in another city and you have to be located in that city, you can work from there. If we have an office on a certain part of town and you want to be on that part of town, you can work from there, but you can't work from home, necessarily. And if you think about it, in some ways, that makes sense. Not necessarily from the standpoint of just being able to have a face-to-face conversations, but also within the last 10 or 15 years, all the major corporations have become much more sensitive to issues around worker safety and ergonomics, and all of these types of issues.
Well, who's doing the audit of your work area at your home. So, companies [inaudible 29:08] concerned about whether or not people get hurt when they're on the clock, but they're at home. They're responsible for that environment. How does that litigation evolve itself? What are the worker's compensation in terms of that? who's doing the ergonomic assessment? If they're working off their TV tray, like Michelle just said. And so, that's an issue that I think companies have a concern about, both because of their legitimate altruistic concern of worker safety, but also potential compliance and liability issues as well. 
Belinda: And as all know, it would take quite a while for the laws to change and to accommodate these new circumstances that more working from home has brought to employers. And Michelle, I wanted to go back to the example that you gave about a law firm, that insisted that the paralegal come in. I'd be interested, because there you have a competing employer-employee issue that may be a lot of employers may be seeing moving forward. So, what was the justification for the employer, the law firm employer, insisting that they be present? And what was the justification that the employee was giving to say, maybe she was saying, I don't need to be present to be able to do my job. So, can you talk a little bit more about that tension?
Michelle: Yeah, and I think that the unfortunate part is that again, the employee has got comfortable at home and she feels as though- now let's put this all in perspective, she was released from, or not released, but due to COVID, released from a government position. And so, now she wants to go back into a law firm, but the attorneys in this law firm are saying, listen, we need our paralegals here because of the confidential matters that we work on. But most importantly, we have just seen that it reduced the amount of errors and so forth and so on. Right? So regardless of what their position is, in terms of that law firm, if that's what they are desiring because of the size of their firm and communication and working in teams and all those other things, and then they have the right to do that. What did we tell our candidates? That you just have to really make a decision about what you were really wanting to do personally in your life? Her reason was, listen, I don't want to get on the highway anymore. Can't I negotiate being at home four days a week, and in the office one day a week? There's just a lot of logistics. But again, this employer is saying, we want folks in the office. One thing that's really interesting, so, one of the law firms I was working with, they had more of the open space concept with their associates and such. In many of the law firms now are going back to the closed office is closed doors, one person in the office, you close the door and that's, if you can imagine, that's a luxury. That's a luxury. Where we're in the, what year are we in? in the 2018-19s, they were getting rid of all the walls, right? Down there, It's amazing. One of our clients is a, they do brokerage. So, it's a brokerage law firm. They're putting up walls now. So, to bring people back into a workspace environment in order to be productive. So, a lot of things going on, again, it just depends on the size of the firm, the number of attorneys, the number- all those different things based on what the employer is requesting. But so-
Barbara: You know, I'm curious about the example you gave though, because even though people are in the office, how much face-to-face contact are they having? Because some of the guidance that we've heard, says that you're not supposed to congregate, you're not supposed to go into the pantries and that kind of thing. So, are employers actually having employees congregate in the workplace?
Michelle: This is, they're not having them in there now, but they're saying at some point in time, they want them back. So, our employers are just trying to be very upfront. This is not a permanent situation. We want the candidates to know that we have every intention, be it Q1 or Q2 of 2021. We plan on everyone being back here. So-
Belinda: Okay, great. Well, in the interest of time, I wanted to roll into some other questions about some of the unexpected challenges, of that, you in your capacity, as a service provider to these companies, what have you run into? what are your biggest and unexpected challenges once the pandemic hit?
Robert: I'll say this, the most obvious one is the fact that because people are not meeting as much face to face, the inability for me to get out and visit with current clients and talk to future prospects. So that's the most obvious one, which is, you don't have nearly as many networking opportunities anymore, right? All the chambers of commerce are no longer meeting. They're doing their things virtually. So, you don't really have the networking opportunities to pass out business cards and engage new people like you used to. So, that's been a major challenge. So, the sales side, Belinda, I would say, would be one answer to your question about what some of the major challenges would be. I think the other major challenge has been, what I said earlier about the diversity of the regulatory environment, if you will, in terms of not really knowing from day to day, sort of what the standards are going to be. And so always trying to be careful to try to respond to whatever the current protocols are or the current rules are. If someone tests positive, what do you do? If someone has a spouse who's positive, what do you do? So, these issues around just trying to figure out what the right response is. And just when you think you've got to figure it out, have it be tweaked or changed in some way. So that's been another challenge, which is sort of the inconsistency of the various messages that we've been getting and trying to always be in the right place with regard to how you want to follow what's most prudent. And what's going to keep your employees safe as well as candidates safe, as well as ensuring client's safety and all those things. I will say this one thing that was beneficial to me, that sort of helped me with some of these challenges, which is, I happened to be in New Orleans, doing talent management work for a fortune 500 company there, at the time Katrina hit. And so, one of the things everybody learned who lived through Katrina is, make sure you've got your business continuity plans up to date. And so, ever since the Katrina experience, people like myself who had an opportunity to live through that, we always have a business continuity plan. You don't always know what the exoticness event is going to be, but you know there's going to be an event. I live in the Gulf coast, it could be a hurricane; hopefully this is the only pandemic I'll ever encounter, but regardless what the event's going to be, you gotta be prepared for some interruption of business. And that does build up the resiliency muscle in order to make sure that you're prepared to say, okay, this has changed. We know what our priorities are, what do we need to do to make sure we still hit our priorities? And so, that's the good news, is your organization ends up not sort of running around like a chicken with his head cut off, even though you're experiencing something new, it all just goes back to, what does our business continuity plan tell us we should do in this situation? So that was actually very, very helpful. 
Barbara: Great. How about you, Michelle? 
Michelle: Yeah, I think that, during this pandemic, I think about the marketing or the business development and I just, I really have relied upon the past twenty-five plus years of being in business that you always learn how to just detour to something different. And no, I don't take notes very well. Right. So, I'm basically, say- okay, I'll let you keep that. Now I'm going to go create it over here. So, when you're ready to catch up, then we can talk about it. So, with, with Diverse Talent, it was really a great opportunity for us to really tap into the network that we have built over these years, our clients, and our relationships.
So, we have actually created webinars every Thursday, where we bring our HR executive CEOs to the table, talking about why they're committed to diversity, why they're committed to hiring diverse talent. And it's been amazing. So, we've had probably thirty-five episodes now and people tune in all over the country. So, it has been a true benefit for us. Cause before, you would try to break your neck, which I probably didn't do as much as I should, but running here and running there, I'm not a very good runner to places. So, I thought, my goodness, why not just bring everyone here? So we, in any one of our webinars, we have folks from the East Coast to West Coast to any part of the continent, but we bring CEOs and they're very committed to talking about, particularly in today's time, why they're committed to diversity, why they're committed to diverse talent, why that we are a partner of theirs, why they're working with us. They want to get that message out. It's kind of like having their seal of approval from us. So, that has really been a great way to not only continue leveraging the candidates that we have, but also the solid relationships that we have. And we're just so proud of having many of those partners continue to work with us. So, that's how we've, we've done that.
Barbara: I was curious about concerns that your clients have had with respect to these changes in the recruitment process and what have been some of those concerns? I know you've spoken about some of them, but what are the significant concerns that your business leaders, your clients have had, with respect to the changes you needed to make and the recruitment process?
Robert: I would say I've been very pleased at the flexibility that a lot of the clients have exhibited Barbara. And I think it's because everybody is going through it at the same time. I think that the reasons people have been pretty comfortable, is because they're experiencing it for themselves. And so, as the changes have come about, either because of local municipalities requiring certain things to be done or certain things not to be done, or maybe requirements we've put in place, or maybe concerns that their new hires, their candidates may have, for the most part, people realize we're all in this together.
And we just got to kind of figure it out. And so, for the most part, I would say, Barbara, there hasn't been an overwhelming concern or pushback from the client side. I think just to mention compliance one more time. I think there has been a concern about whether or not they're doing the right thing. There's an old saying, right? It's, it's better to ask for forgiveness than for permission. I think to the degree that it's difficult for people to be in compliance with certain protocols that may be were required before, whether it's dealing with remote workers or whether it's the issue of [unintelligible 41:35]. People figure at some point it'll get figured out. And so, Homeland security, for example, recently came out, like this week, saying that they're going to give us some flexibility until November 19th when it comes to making sure we get all the appropriate online documentation in place. If in fact, we're not in our normal workplace, but those kinds of things were slow in coming. You didn't have that on day one. And so, people knew they were- employers knew they were not being compliant. And for the most part, I think they just hope that since we're all going through the same thing, somebody is going to forgive us in the end, when this is all over. I've been very pleased that there's been a good harmonious working relationship and everybody having a good sense of, we'll figure it out together, even though we don't necessarily have all the answers today.
Michelle: Yeah. I, again, I think that's why I was just saying, I think that Robert's right on. I think they're just kind of like, you know what, we're going to figure this out and we will make it work. I think it's been really interesting and many of our candidates that have been onboarded, they get in the mail, their computers and their screens and all that other stuff, you know, they'll get those. And then the onboarding is making sure that, IT and all that stuff gets set up. So again, with technology, everything is just overnight. It's really interesting where you can get a computer, a laptop in the mail one day and they log into and I've got them all security clearance and ready to go. So, technology is really fairing on our side. I will never forget, about eight years ago. And I wanted to, I introduced to the law firm, that oh we've got to go cloud-based, go cloud-based. And they thought that I was- they were like, what are you talking about? That will never happen. And you know, when the pandemic happened on March 16th, I was pack- everyone, take your laptops home. We're all cloud-based. And then we got, we got home. I said, well, we're going to be online doing zooms and zoom meetings and zoom. And the attorneys were looking at me like, what are you talking about? I said, well, I'm already scheduled a big conference on zoom. And they said, you can't do that. I love that word, can't. Just give me the word can't. And so, we produced conferences and interactions with our candidates and them meeting clients, and they loved it. It became this great cocktail reception, and this was back in March and they tell me it couldn't be done. And I said, promise you, we will land not only clients, additional clients, but it will become the next norm. So, I love things like this. I love and pandemics or things happen in our country because it gives us a time, in my mind as an entrepreneur, and that's all I know how to do, is to recreate, reinvent and refine. And that's what I love doing. That's what I love getting our candidates to also do. But we also help our clients tap into that. It's a time to reinvent, refine yourself. Think through what someone has told you. It's not working. I promise you, it's already been done somewhere in another continent. So, that's what- that's my long-winded speech. But I think it's been a great opportunity for businesses and for candidates. 
Barbara: Yeah. And that's a follow-up on that question about the concerns raised by your clients; the employers. Do you have any- see any particular patterns of concerns coming from the candidates about this now, a new process and it's totally handled remotely or technically, or, you know-
Michelle: Here's what I have to say about that. Honestly, those that want a job, they will adapt. 
Barbara: Simple as that. 
Michelle: We are- right now I'm working with the client and helping them place a COO position, which is a very seasoned person and they've been- and he thought, God, you know, I don't know how to make my zoom camera. I then have my team, get that person up to speed because if they want this job, that's just how the interview is going to have to happen. So, I think that it's one of those things where again, if either we're with the process, we're going to change and adapt with it. And if you don't, then you will be left behind. And that's just- it's just the reality. And I think you're talking to an engineer though, too, who enjoys technology and watching all this stuff happen, but it is the truth, and again, I want to be mindful. I'm going to have to jump off, I have another presentation, but at this point, I feel like I can jump on a zoom call five minutes too, and be ready for another one. It's just the way of my life right now. But I think it's the way that this country is going. And we just have to really prepare particularly the folks in the verticals that we recruit for, that this is the way of the future.
Barbara: But before you leave Michelle, I liked both of you, you and Robert, to answer the question, what are your top three pieces of advice that you'd like to give any recruiter or headhunter out there trying to figure out how to manage this new normal and the pandemic era workplace?
Robert: Well, I'll start. Certainly, I would go back to what I said earlier about the need to sort of always have, sort of this business continuity plan, right? Because even though we won't have another pandemic knock on wood, we will have something happen. So there's going to be some event that is going to cause an interruption to your processes, and you gotta be ready with a plan to sort of, adapt and move forward, regardless of whether that's a hurricane or some other event or tornado, depending on where you live in the US, I guess. So that would be one piece of advice. My second piece of advice is, everything always goes back to having a great team. And so, I'm sure Michelle would agree with me that, the people who you surround yourself with, have to that same sort of can-do philosophy. Taking care of the customers, whatever it takes to get it done, we'll worry about how to pay for it later, better to ask for forgiveness, as opposed to permission and surrounding yourself with some of those can-do people is probably a second thing that I think would be very important to think about as you move forward. And then COVID itself, unfortunately, has also brought out a lot of people that have very strong political viewpoints and for whatever reason, we've had people, wear a mask or not wear a mask depending on the color of their Jersey sometimes. And so that's another thing we've had to grapple with. And I would say to all of that, we just try to encourage people to stay focused on the issue and not on the personalities. And that'd be my sort of my third piece of advice. 
Michelle: Thank you. And again, I want to thank Belinda and Barbara for having us on this has been great. I think my first piece of advice is to just remain focused, remain focused on what your intent is. And to be very into- second thing is, stay clear about it. To stay focused and clear during this time of the pandemic, it can get clouded with, Oh, what if I can't, you can't move here and can't do there, just stay focused. This too shall pass. It will pass. And so, the third piece is to really practice that whole really self-reflection and care right now, because we have to stay healthy through this. It's so easy during this election season and the George Floyd and the COVID and all these things going on, that our mind just gets foggy and we get exhausted. And so, that has been something that I just really ask all of us that are listening to really make sure that we are taking care of ourselves during this time. 
Belinda: That sounds great. And I just really want to thank both of you for providing us with so much valuable information. You brought up some things that we wouldn't think about, how COVID has impacted the recruitment and talent acquisition process. So, thank you, Michelle Campbell, from Diverse Talent and thank you, Robert Spencer, from Express Pros, and we certainly appreciate everything that you've given us today.